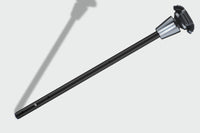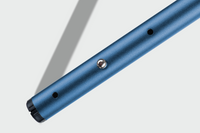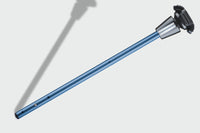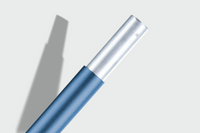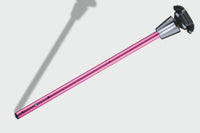 Ergoactives
Lower Pole Junior Ergobaum Replacement
Original manufacturer lower pole assembly spare part/replacement for ERGOBAUM forearm crutches. Includes one lower pole with shock absorber. 


*Lower pole ONLY. DOES NOT come with the Ergocap Ultralite attached
 *MATERIALS ARE LATEX FREE

Your certified ERGOBAUM Replacement Parts 
are warranted against defects in material and/or workmanship for one (1) year.
This warranty does not extend to accessories and non-durable components, such as 
grips or soft goods
 which are subject to normal wear and replacement. 
Non-durable or consumable components are warranted against manufacturer defects for 30 days.
The warranty does not extend to batteries, packaging, or packaging components (e.g. clips, ties, stickers).
If within such warranty period any such product shall be proven to be defective, such product shall be repaired or replaced at Ergoactives' discretion. 
Replacement parts are warranted individually and do not extend the warranty period of any such product they are being repaired or replaced on. 
Refer to Ergoactives' general Warranty Policy for further limitations and exclusions. 
This product is eligible for Ergoactives' standard 
14-day
 money-back guarantee. Eligible returns must be returned in new, unused condition, packed in the original packaging and include all accessories, manuals and/or documentation that came with the product. Return shipping and any related costs are the responsibility of the customer. Returned merchandise is subject to a 40% restocking fee. To initiate a return, contact r
eturns@ergoactives.com
. Refer to Ergoactives' Return Policy for further details and instructions.  
CUSTOMS
You, the customer, are responsible for all taxes and duties (including VAT) imposed by your country of residence.
Ergoactives is not responsible for any packages held by international customs agencies and it is not the responsibility of Ergoactives to make the customer aware of these agencies and their actions. Please check with your country's customs office to determine their procedures and any potential charges.
Your package may arrive at your local post office or delivery center and be held until pickup and payment is taken care of.
If you neglect to pick up your package and it is returned to us, we will not refund the charge for original shipping.
Should Ergoactives mistakenly be invoiced directly for any duties or fees from the shipping company after delivery, we will email an invoice for the balance due. This will need to paid immediately.
As with domestic shipping, if a package can't be delivered due to an error entering your shipping address, Ergoactives is not responsible for any additional fees that may incur in order to reroute or reship the package.
TRACKING
If you have a USPS package marked as delivered but haven't received it, please contact your local mail facility.
You will have to pay taxes and duties in your own country if applicable. This is something we have no control over it and by purchasing an Ergoactives product, you acknowledge that you are aware of this and accept it as your financial responsibility.